The Secret is in our Patented Tooth Design…
Our teeth have four points versus traditional diamond-shaped teeth which only have two.
This allows herb to be shredded multiple directions with a single twist! Perfect fluff with no bb-sized chunks.
Click here to learn more about our revolutionary teeth.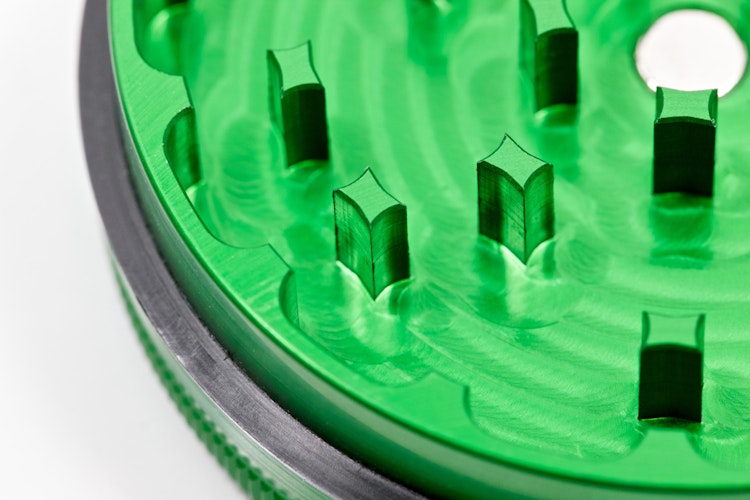 Shred with Confidence
Store your shredded herbs with confidence. The Shredder includes neodymium rare-earth magnets that prevent escaping odors, accidental spillage, and dried out herbs. When you take off the top piece, it gives you a satisfying pop, telling you how closely each part is machined. The Santa Cruz Shredder also uses a nylon gasket around the edge to assure a smooth rotation without metal-to-metal contact. Not only that, the Shredder is scratch and fingerprint resistant because of its aerospace anodized protective coating.

Engineered to Perfection
Oblong shaped holes in the second piece allow shredded herbs to fall through resulting in fluffy plant matter. The third piece allows only pollen to pass through its drum tight stainless steel mesh. The Shredder features a thread design which eliminates cross-threading, binding, and seizing of threaded components. Stop grinding and start shredding with the Santa Cruz Shredder! Shop Now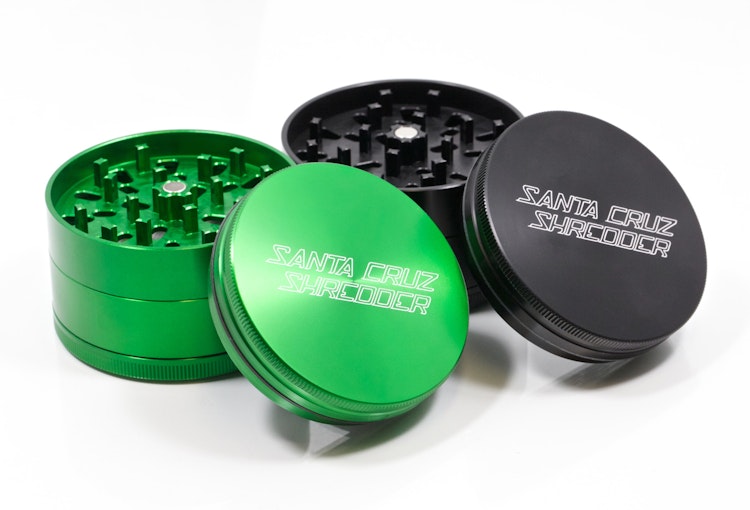 Specifications
Mini (1 5/8"diameter), Small (2 1/8" diameter), Large (2 3/4" Diameter), and Jumbo (4″ Diameter)
2-piece or 4-piece
Made in California, USA
Medical-grade. Our teeth will never dull or release burrs of metal. Guaranteed.
Handles smooth as butter.
Unique threading pattern, friction ring and textured grip
Top quality rare earth magnet in lid
Innovative tooth design
ALL COLORS AVAILABLE!
2-PIECE GRINDERS
4-PIECE GRINDERS
LATEST PRODUCTS